FIRESTONE FOOD CHALLENGE
ARE YOU UP FOR THE CHALLENGE?
This is your chance to show you have the skills to demolish our big 'Firestone Food Challenge' and make the 'Firestone Wall of Fame', receive a challenge cap plus the chance to WIN 1 of 10 $100 in R Ultimate Points*. (Terms and conditions apply Authorised under LTPM/17/01862)  in the monthly draws
JULY Firestone Food Challenge – 1.5kg T-bone Steak
T-bone steak (cooked to your liking) with roasted potatoes, carrots, beans and onion rings served with your choice of sauce; mushroom, pepper, gravy or hollandaise – $65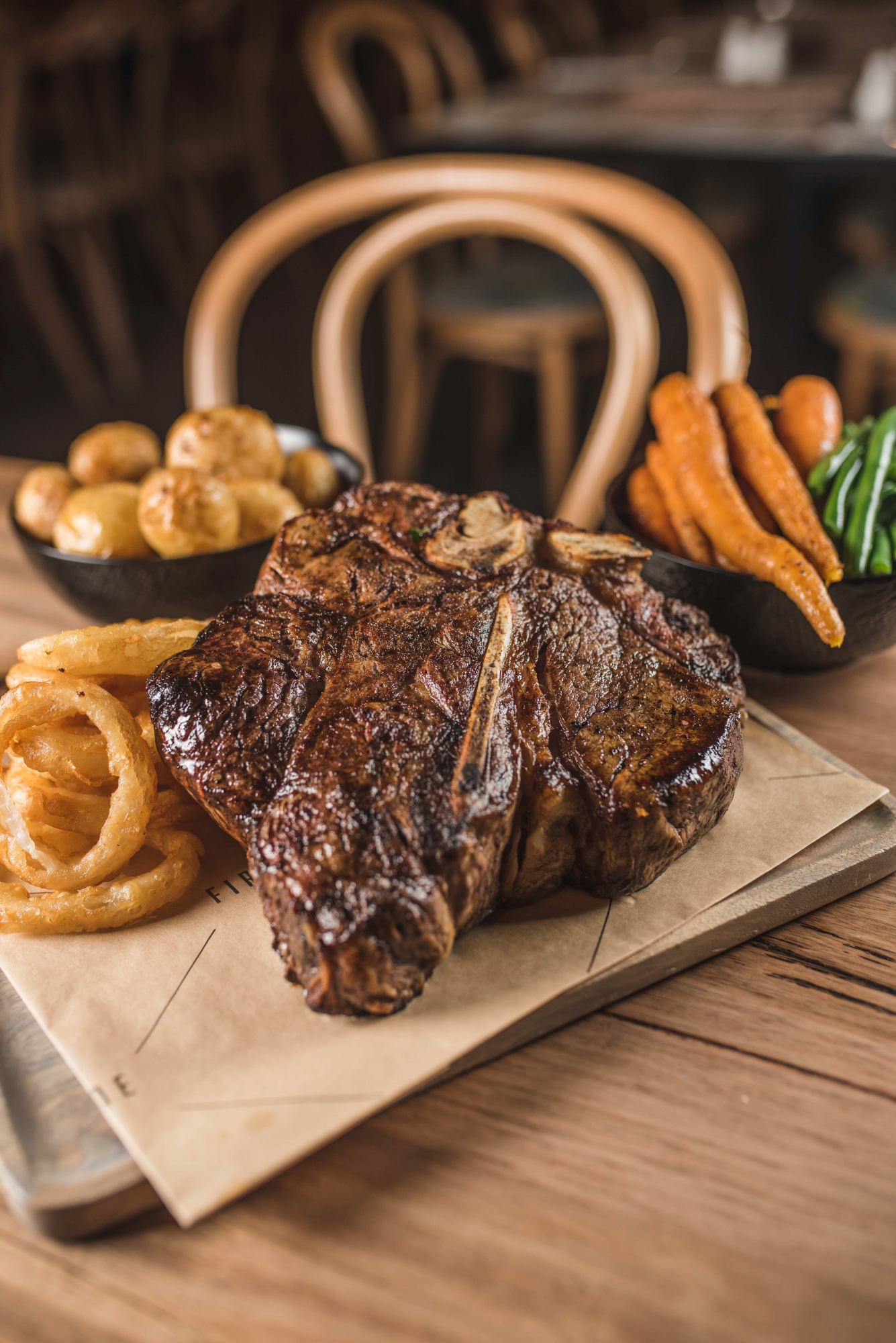 Challenge Rules:
The participant must complete a waiver prior to participating. This provides consent for the participant photo to be used for marketing purposes to promote the 'Firestone Food Challenge' and for the 'Wall of Fame' should the challenge be completed.
A photo will be taken of the participant prior to and following the challenge.
The participant also acknowledges that they are aware that the challenge meal they have chosen to consume is oversized and not a standard portion, that they do not have any food allergies and that some challenge meals may be extremely spicy.
The participant will have 60 minutes to complete the challenge meal, including all sides, time commences when meal is delivered to participants table.
Only the participant can consume the challenge meal.
The participant may consume any beverage of choice during the challenge.
Should the participant becomes sick during the challenge, they will not be able to continue.
At the conclusion of the challenge and if the participant has successfully completed the challenge meal, they will receive a 'Firestone Food Challenge' cap, be added to the 'Wall of Fame' and receive a ticket to WIN 1 of 10 $100 in R Ultimate Points.
If a participant completes all three (3) Food Challenges they go into the draw to WIN $1,000 in R Ultimate Points.
---
Terms and conditions: This is a Members Only Promotion. Entry is by purchasing and completing a Firestone Food Challenge item. An entry ticket will be provided upon completion of the Challenge item. Promotion commences Wednesday 2 May 2018 at 9am (or when Firestone Kitchen open) and concludes on Tuesday 31 July 2018 at 12am midnight (or when Firestone Kitchen close). Ten (10) unique winners will be drawn each month; Friday 1 June 2018 at 10am, Monday 2 July 2018 at 10am and Wednesday 1 August 2018 at 10am. The winners do not need to be present to claim prize. Entry Tickets will be removed from the promotional barrel following each monthly draw, these do not carry over into the next month. The winners will be contacted by phone and or email. Prize includes Ten (10) $100 in R Ultimate Points, valued at a total of $1,000.00 each monthly draw. Should the winner/s be uncontactable / not make contact and collect their prize within 48 hours of being drawn and contacted, another winner/s will be drawn. Prize is not redeemable for cash. Authorised under LTPM/18/01862.