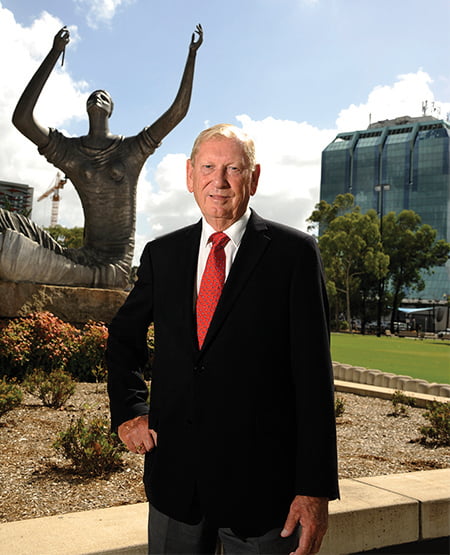 Revesby Workers' Club Director Ian Stromborg has made the Australia Day honours list, receiving an Order of Australia Medal (OAM) for service to local government, and the Bankstown community.
Ian Stromborg was elected as Director of Revesby Workers' Club in September 2006 and was a welcome addition to a strong and stable Board of Directors. He was first elected as councillor to Bankstown City Council in 1987 and has continued to represent the residents of West Ward.
Director Ian Stromborg is a lifelong resident of Bansktown. He is married to Lesley and they have two daughters who attended local public schools and graduated from the University of Western Sydney.
"I've watched Bankstown grow, mostly for the better, and how I got involved with local government was a resident's issue, which was the potential rezoning of the Riverlands golf course. A council election came up in 1987 and I've been there ever since." Director Stromborg told the Daily Telegraph.
He has been a driving force behind several council initiatives including the construction of the 12 storey Civic Office Tower, the completion of Paul Keating Park, upgrades to the Memorial Oval cricket ground and completion of the Stephen and Mark Waugh Pavilion, updating the Bankstown Old Town Plaza, implementation of the three bin waste collection system in 1999, construction of bike paths along Henry Lawson Drive, upgrades to Newland Reserve, construction of the Salt Pan Creek Open Space Corridor and Boardwalk, construction of a new Works Depot at Bransgrove Road, Panania and a supporter of local residents with major local issues such as concerns with Bankstown Airport and the proposed rezoning of Riverlands Golf Course.
"As a lifelong resident of Bankstown, it has been an absolute privilege for me to officially serve our community for nearly 30 years." He told the Torch.
Director Ian Stromborg has a great sense of community spirit. He is committed to working with the community and has a very approachable and easy to talk to manner. He is more than happy to listen and speak to Revesby Workers' Club members and guests concerns to improve the Bankstown community.