What is ClubGRANTS?
Each year through ClubGRANTS, clubs across NSW provide support to tens of thousands of local community organisations, sporting groups, and charities that make a difference in their local area. With more than $1 billion in funding provided since the program's inception, including a record $100 million in 2014, ClubGRANTS is without doubt one of the largest and most effective grants programs in Australia.
Who is eligible?
To be eligible to apply, you must be a not-for-profit organisation and provide the following project and/or services: community welfare or social services, community development, community health services or employment assistance activities. You are also eligible if you or your organisation is involved in community or professional sport.
How to apply?
Applying for ClubGRANTS funding is quick and easy. All funding is processed locally and community groups can contact their local clubs easily and at any time for information and advice. ClubGRANTS is also flexible, allowing clubs to provide support quickly, efficiently, and often as soon as a need emerges.
The ClubGRANTS Scheme  has seen more than $1 billion given by clubs to community groups, charities and sporting teams across NSW.
163 applications were received and reviewed by the ClubGRANTS Committee with 21 being wholly or partly funded by Revesby Workers' Club.
These organisations include:
Bankstown City Aged Care – Creating a home like environment in aged care
Bankstown District Uniting Church – English Second Language Classes for Refugees and Asylum Seekers
Bankstown Koori Elders Group – Ceramic and Aboriginal cultural projects
Biyani House – Revesby Women's Shelter – Operations Support
Broderick Gillawarna School – Smell, touch, look and listen – Sensory Garden
Caroline Chisholm School – Outdoor pool shade cover structure
Chester Hill Neighbourhood Centre – Resources for family on-line cooking classes
Coolaburoo Neighbourhood Centre – Let's extend the Counselling support to Family and DV Victims
Headway Adult Development Program Inc – Serving Canterbury Bankstown for 40 years (Cooling for Life Edition)
Mercy Works Ltd – Mercy Connect – Mentoring Program for Refugee and Asylum Seeker Students
Morris Children's Fund Inc – Music Therapy at 3 schools that cater for children with a disability
Nanghami Ngallia Aboriginal Corporation – Nanghami Ngallia Outreach Program
Our National Heart Pty Ltd – Heart of the Nation Communities
Revesby Uniting Church – Kidsplay @ Revesby
Richmond PRA – Headspace Hangout
St Luke the Evangelist Parish Church Revesby – The Perfect Blend
St Vincent De Paul Society – Vinnies Bankstown Support Centre (New Freezer for food provisions)
The Multicultural Network – Seniors Aged Care Program
The Potters House Revesby – Revesby 180
Whitlam Institute – Civics and Citizenship for Young Australians
Women's Justice Network – My Way Youth Mentoring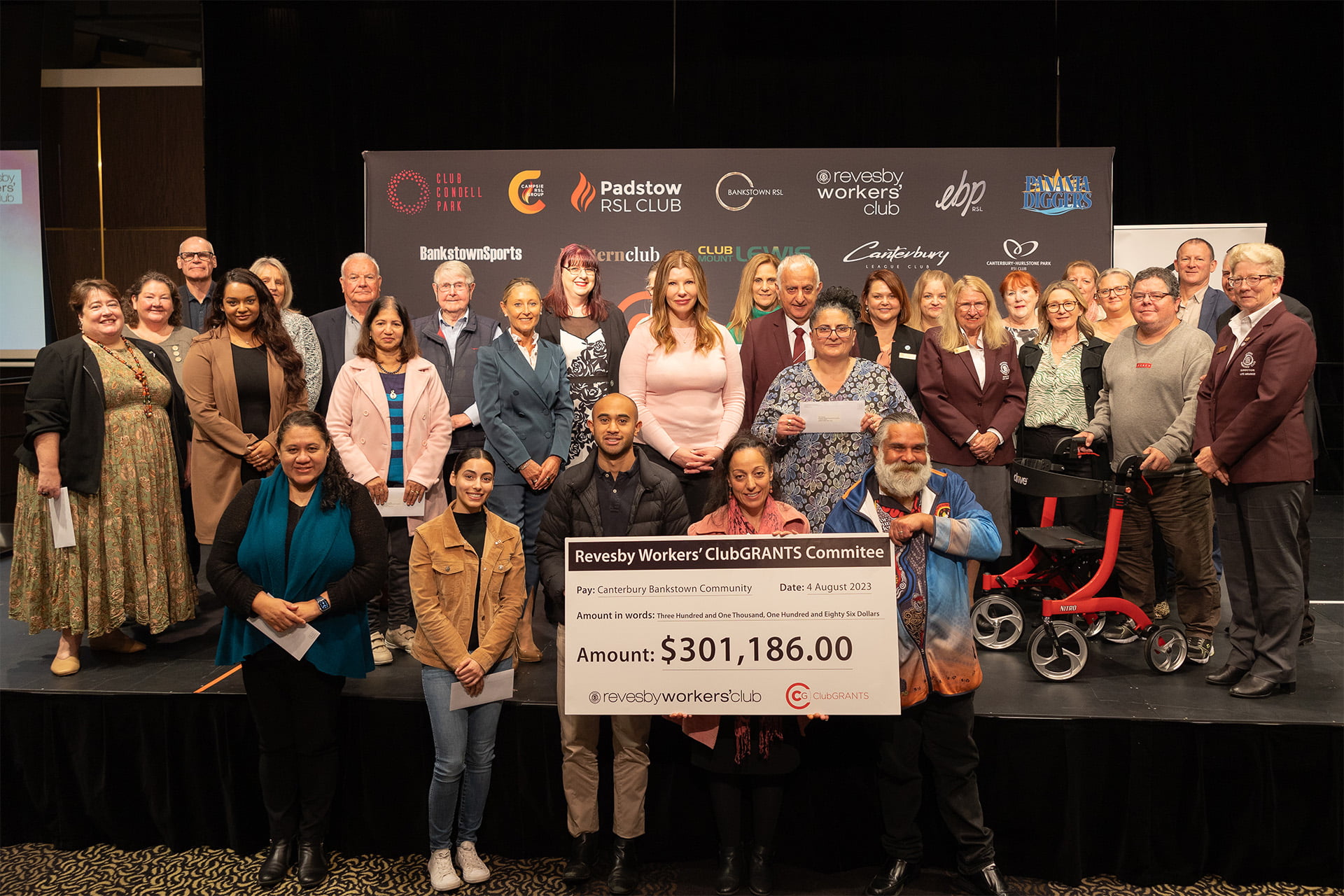 ClubGRANTS 2023 Recipients