Bill Bullard Charity Foundation and Charity Committee
The Bill Bullard Charity Foundation is named aptly after the Club's past president Noel Edward (Bill) Bullard OAM.
Affectionately known as Bill, he was a significant member of the Club's board, holding the position of Vice President (1978-1982) and then President (1982-1995), and during this time awarded life membership of the Club in 1986.
Bill was instrumental in establishing meaningful local community programs that the Club still supports to this day; such as the Schools Subsidy and Tertiary Scholarships, as well as a group of like-minded members forming the Charity Committee to support numerous well-deserving local charities.
Throughout the year, the Charity Committee hosts a series of events that help them raise some of these much-needed funds; such as the Charity Meat Raffle held every Friday night at the Revesby Workers' Sports Club, which affords them the opportunity to donate funds to various deserving community projects.
This year, Club President Daryl Melham AM and Director and Charity Committee Chair Christine Benham attended Bankstown-Lidcombe Hospital to proudly present the hospital with a cheque in the amount of $50,000 from the Bill Bullard Charity Foundation.
This much-needed funding enabled the hospital to purchase a high-quality ultrasound machine that will allow anaesthetic doctors and nurses to help Bankstown-Lidcombe Hospital patients in three key ways:
Providing ultrasound-guided 'nerve blocks' for patients having surgery, reducing or eliminating pain after surgery, and allowing a speedy recovery and return home;
Assisting vascular access, to allow medications and monitoring lines to be placed first time; and
Allowing assessment of patients, by scanning the heart and lungs to ensure doctors can guide medication and fluid therapy more effectively.
As a Club, we are extremely appreciative of all those who donate to the Bill Bullard Charity Foundation and its Charity Committee.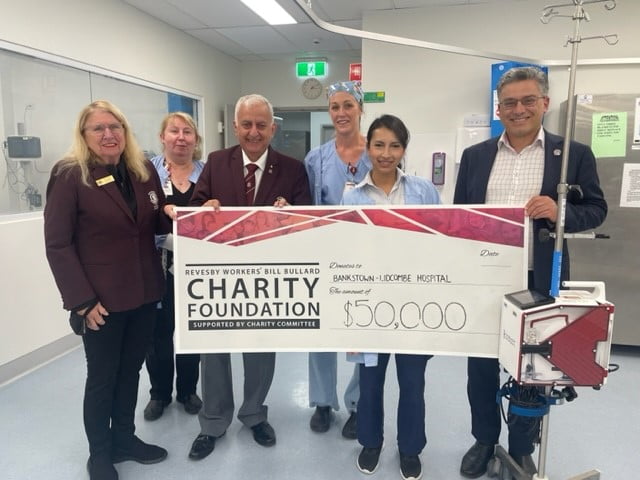 26 May 2023
Left to right: Christine Benham – Director Revesby Workers Club, Eleanor Halvey – Nurse Manager Perioperative, Daryl Melham AM – President of Revesby Workers' Club, Dr Amy Taylor – Deputy Director Anaesthetics, Neema Rajak – Acting Nursing Unit Manager Anaesthetics and Recover and Peter Rophail – General Manager of Bankstown Lidcombe Hospital.