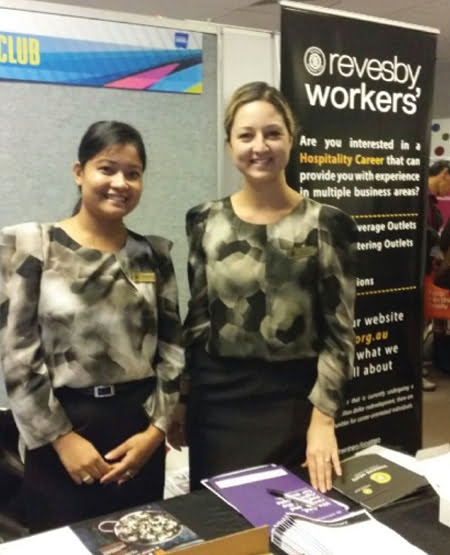 As a large employer located predominately in the South West of Sydney, Revesby Workers' is all too familiar with the unfortunate statistics that highlight the level of unemployment in our surrounding area.
Sydney – South West
We have 275,600 of working age population (15-64), with an overall unemployment rate of 7.0%, and a Youth (15-24) unemployment rate of 9.3%.
Source: Australian Government Department of Employment – April 2016
As both a responsible employer and community Club, we took the opportunity of participating as an exhibitor at the Annual South West Sydney Jobs and Skills Expo.
This Expo attracts thousands of visitors each year, from students looking for their first job to the mature age returning to the workforce, from people seeking a new career path to minority groups and everyone in between.
Whilst many industries were represented at the Expo, we were pleased to find the level of interest in attendees wanting to know how to start a career in the hospitality industry, what is the Club industry all about, and who is Revesby Workers'? All worthwhile questions and one's in which our team of human resources professionals were only too happy to address.
Since the June Expo, the human resources team have fielded many enquiries via email and phone from potential applicants, with already a couple of applicants on the cusp of becoming part of Revesby Workers'.
The opportunity to present what we do as an employer, as a community organisation and importantly as a local employer is not lost on our management team or staff, and we look forward to continuing to do our best for the South West of Sydney.
This terrific event is an initiative of Bankstown City Council and is supported by it partners Australian Business Academy and the Torch newspaper.