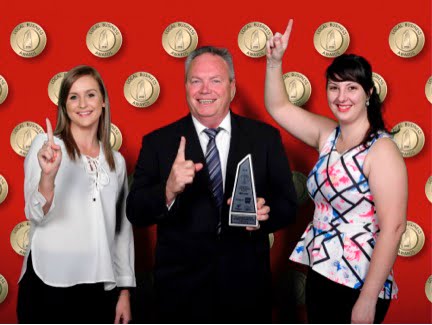 helloworld Revesby has been named winner of the specialised retail category in the Bankstown Local Business Awards.
The Local Business Awards night, held at Revesby Workers' Club, recognises businesses and workers in the community for their outstanding work, customer service and innovative ideas. The awards acknowledge and reward local community businesses, helping improve standards and strengthen bonds between businesses.
helloworld Revesby Sales and Operations Manager, Mark Knox accepted the award on the night.
"We are so excited to have received this award. The awards night was a truly great night to be surrounded by so many other businesses from our area. There was a genuine buzz in the air and a real sense of achievement and excitement." Said Mr Knox.
helloworld Revesby has been operating for more than two years and has helped many holiday goers organise happy and safe travels. helloworld is also actively involved in supporting the local community by creating travel group deals and holding travel expos.
"We are very proud of our team and it validates their dedication and hard works to ensure our clients not only have a wonderful holiday but they also have a fantastic pre-trip experience."
helloworld Revesby Owner, Meryl McDonald says this award acknowledges and honours the hardworking and dedicated team at helloworld. A team that provides great customer service and helps customers create special memories and experiences as they travel the world.
"It is wonderful to be acknowledged for our commitment to striving to be the best retail travel agency in the area. We spend a lot of time and money in the training of our travel consultants and it is great to see that what we are doing is paying off and we are heading in the right direction."
"I am really proud of our team. I already knew we had a great team before we received this award, but I think it is great for our team to know that many of our clients also feel this way. Our consultants are passionate about doing the very best work for our clients and this often requires them to work back after the doors have closed, so I think this award makes all that hard work worthwhile".