Rogues Sports Bar
Inspired by the framed Rogues Gallery illustrations that hung in the original Sports Bar, A rogue portrays a person of likeable character who behaves unexpectedly with light-hearted mischief.
Each illustration has been recreated and showcased on feature panels either side of the new bar, as a nod to the rogue well-known personalities of the Sports Bar.
When designing this space, the priority was to maintain historic integrity, reinvigorate and encapsulate the sports of snooker and darts, while offering local sports fans a dedicated venue for all sports viewing.
What To Expect
The entry to Rogues Sports Bar is directly off Brett Street Foyer, as its always been, but gone are the heavy framed glass doors. The entrance is spacious with uninterrupted access to a large central bar.
The bar is framed by warm brick columns, black granite counter and illuminous green glass feature tiling. The hanging cage of screens, also mirrored on entry, conveniently displays live sports, coming events and menu selections.
On either side of the bar is ample seating, a combination of low and high table options, accompanied by well thought comfort seating for those long games. Seating on the left flows seamlessly to an outdoor terrace, designed for those long summer days.
State-of-the-art audio visual featuring two LED 158-inch wall screens on either side of the entrance and over twenty-five 55-inch screens throughout, there isn't a second of live action to be missed.
The TAB facilities are no exception with a series of dedicated 55-inch screens, and convenient self-serve Easy Bet Terminals makes it the place for racing.
Behind the bar is a dedicated space for the snooker and dart enthusiast. Featuring six snooker tables and 12 dart boards, all retained from the original Sports Bar. Including a 1912 Grand Duke that was once owned by professional billiards player, Walter Lindrum and played on during the 1961 and 1969 Australian Open Billiards Championships, until it was purchased and restored by the Club.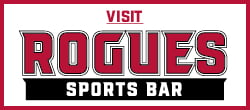 ---
Help is close at hand GambleAware gambleaware.nsw.gov.au 1800 858 858
Me&U Now Available at Rogues Sports Bar