Dear Members,
With the end of financial year now behind us, we look towards the second half of the calendar year with many of us starting the countdown towards the Christmas break.  We are happy to report that Revesby Workers' Club recorded a profit of $xx, detail of which is outlined in the Financial Report, but more importantly that this enables our Club to continue to provide funding to our sub-clubs, invest in education through our school subsidy and scholarship program, consider sponsorships for charities and fundraising events and community projects to really give back to our members and wider Community.
Vale William Pearce (Foundation Member #68)
It is great sadness that we advise our members of the passing of Foundation Member William "Bill" Pearce on 3 July 2023 aged 97. Bill was one of the Club's 8 remaining Foundation Members and living local, he still frequented the Club when he was able.
As a young married man having moved into Sphinx Avenue with his wife Jean, both Bill and Jean established themselves in the community where Bill became a member of the Workers Club.  He enjoyed socialising in the Sports Bar, playing snooker and darts and always had a bet on a Saturday with friends. When Bill reached retirement age, he celebrated with his family in the old dining room upstairs in the Club as you can see highlighted in the photo below. Upon losing his wife Jean in 1991, Bill became a regular golfer and with that came beers after each game in the Sports Bar with his golf buddies. The Club became such a great support for Bill in his later years since becoming a widow.
Bill was always very proud of the Revesby Workers' Club, acknowledging the work within the community that it did and he always sang the praises of the staff and Directors and felt very proud to be part of the history and day to day life of such a great Community Club.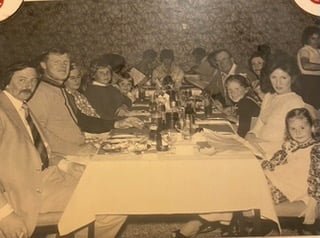 Bill's retirement dinner with family in 1981. Bill is seated on the right side, far back, age 55. 
Vale Marijana Projcheski
31/10/1986 – 10/7/2023
A new mother, beloved wife and friend to many.
It is with heavy heart that we inform our Revesby Community of the sudden passing of Marijana Projcheski.
Many would remember her welcoming face as she greeted and farewelled you as part of our Guest Relations Team.
She will be remembered fondly and sadly leaves behind her husband Nick and month-old twin boys, Hunter and Hayden.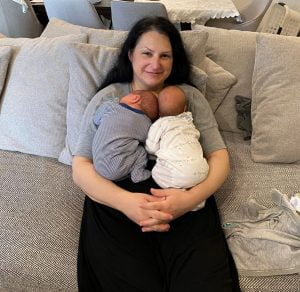 Marijana with her twin boys.
Notice of General Meeting – 3 October 2023 (BY-ELECTION)
Included in this Journal, members will find a Notice of General Meeting.
Under Rule 63 of the Revesby Workers' Club Constitution, the Board of Directors call for a General Meeting to be held on Tuesday, 3 October 2023 for the purposes of undertaking a By-Election to fill the casual vacancy on the Board of Revesby Workers' Club following the resignation of previous Director Kylie Wilkinson.
Auditorium And Functions Renovations
As briefly mentioned in our previous Executive Report, the Board of Directors were reviewing a proposal for a much-needed renovation to our Auditorium and Functions area.  We can confirm that this proposal has since been approved and that these renovations are due to commence in January 2024.
Due to the volume of works being undertaken, the renovations are expected to take approximately 9 months meaning the Whitlam Theatre, Waratah, Acacia and Grevillia rooms will be unavailable from January through to September 2024.
We understand a closure of the functions area for such an extended period will put strain on the remaining function spaces within the Club and while our functions team will endeavour to look after as many bookings as possible, we appreciate your understanding during this time is appreciated.
We are excited to share the concept images below to give members an idea of our vision and to share what we believe will be a state of the art, modern, future focussed area for our members to enjoy in the future.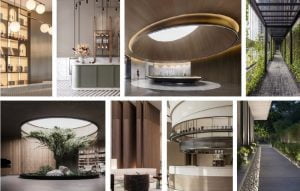 2023 ClubGRANTS
2023 Canterbury Bankstown Council run ClubGRANTS (Category 1) were open for applications from Tuesday 14 March 2023 and closed on Friday 21 April 2023.
163 applications were received and reviewed by the ClubGRANTS Committee with 21 being wholly or partly funded by Revesby Workers' Club. These organisations include:
Bankstown City Aged Care – Creating a home like environment in aged care
Bankstown District Uniting Church – English Second Language Classes for Refugees and Asylum Seekers
Bankstown Koori Elders Group – Ceramic and Aboriginal cultural projects
Biyani House – Revesby Women's Shelter – Operations Support
Broderick Gillawarna School – Smell, touch, look and listen – Sensory Garden
Caroline Chisholm School – Outdoor pool shade cover structure
Chester Hill Neighbourhood Centre – Resources for family on-line cooking classes
Coolaburoo Neighbourhood Centre – Let's extend the Counselling support to Family and DV Victims
Headway Adult Development Program Inc – Serving Canterbury Bankstown for 40 years (Cooling for Life Edition)
Mercy Works Ltd – Mercy Connect – Mentoring Program for Refugee and Asylum Seeker Students
Morris Children's Fund Inc – Music Therapy at 3 schools that cater for children with a disability
Nanghami Ngallia Aboriginal Corporation – Nanghami Ngallia Outreach Program
Our National Heart Pty Ltd – Heart of the Nation Communities
Revesby Uniting Church – Kidsplay @ Revesby
Richmond PRA – Headspace Hangout
St Luke the Evangelist Parish Church Revesby – The Perfect Blend
St Vincent De Paul Society – Vinnies Bankstown Support Centre (New Freezer for food provisions)
The Multicultural Network – Seniors Aged Care Program
The Potters House Revesby – Revesby 180
Whitlam Institute – Civics and Citizenship for Young Australians
Women's Justice Network – My Way Youth Mentoring
All organisations who were successful in receiving whole or part funding have been invited to attend a ClubGRANTS presentation ceremony at Bankstown Sports Club on Friday, 4 August 2023.
Annual General Meeting
A copy of the 2023 Notice of Annual General Meeting also included within.  Please note our AGM is scheduled for Sunday, 29 October 2022 at 10am and will be held on the Club's premises.
If you have any questions for the AGM, please ensure they are received in writing 7 business days prior to the meeting.
We look forward to our members' attendance in support of the Club.

Daryl Melham AM
PRESIDENT