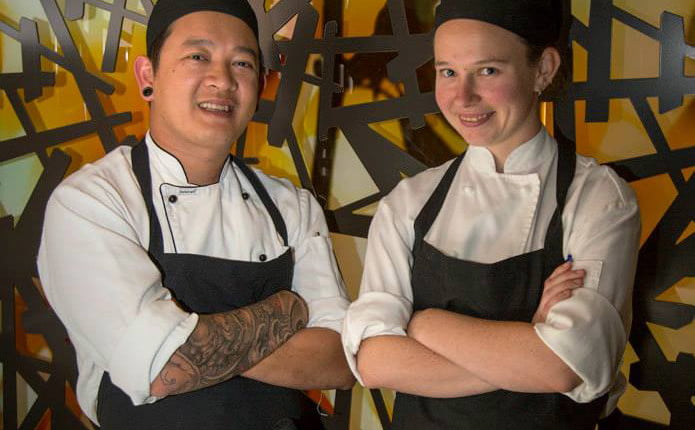 Our Chefs Triumph Again
A big congratulation to our Executive Chef, Hung Le and Chef de Partie Daniella Digby who won Chefs Table for a second time proving that Revesby Workers' Club has the best club food in NSW.
The Chef's Table competition was created by ClubsNSW to award and recognise the many talented chefs, cooks and apprentices in NSW clubs. It has provided a unique opportunity for the chefs at Revesby Workers' Club and Mooney Mooney Club to showcase their culinary talents and the club's dining venue.
The Chefs Table awards night was hosted by Hung and Daniella at Revesby Workers' Club where they plated hundreds of meals for representatives and guests from their winning 2014 three course menu.
For 2015, their winning dishes consisted of house brined scallops, brandade, rosemary crisp, and endive salad and lemon oil for entrée followed by seared free-range duck breast, potato pillow, apricot purée, glazed apricots, toasted hazelnuts and amaretto sauce. For dessert, dark chocolate sphere, peanut butter cream, peanut crumble with warm rosemary and vanilla toffee sauce.
Executive Chef Hung Le says the competition and the awards have helped Revesby Workers' Club stand out while the club restaurant, Bel Cibo, remains as busy as ever.
"This year the competition has been tough and we have had to come up against other clubs who have a lot of talented chefs. For us at the club, winning Chef's Table for the second time in a row is a huge achievement and there is no doubt that clubs now offer even better food and better service." Hung said.
Chef's table head judge Julio Azzarello says this year's competition was of the highest calibre with Revesby Workers' Club producing a very high class menu.
"It was the intense and thoughtful level of food complexity shown by Hung and Daniella that had us all convinced the duo from Revesby was not resting on their laurels."
The award winning restaurant, Bel Cibo at Revesby Workers' Club is open Wednesday Thursday from 5.30pm to 9.30pm, Friday 12pm to 9.30pm and Saturday 5.30 to 9.30pm. Reservations are essential.
Note: Bel Cibo will be closed on Saturday 26 December 2015 (Boxing Day). In 2016 Bel Cibo will no longer trade on Friday's for lunch.