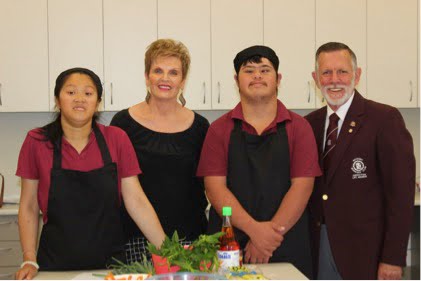 Broderick Gillawarna School students cook up a storm after Revesby Workers' gives $40,000 funding toward the opening of their brand new hospitality kitchen.
Broderick Gillawarna School provides a learning environment for students with moderate to severe intellectual learning disabilities with a focus on students becoming valued members of the community.
The funding from Revesby Workers' through the ClubGRANTS Scheme has seen a refurbishment of the schools hospitality kitchen which has been specially built to give all students access to cooking including those students with physical disabilities that mobilise in wheelchairs.
The kitchen includes new appliances, adequate bench space including an island bench for food preparation and serving lunch, additional sinks stovetops, ovens, dishwashers and plenty of storage room for equipment.
Karen McDonell, Broderick Gillawarna School Principle said the funding has helped enormously.
"The upgrades made to the kitchen have made such a difference to the students learning. We now have multiple ovens, dishwashers and sinks and best of all there is plenty of space for students to move around."
Along with the upgrades, Broderick Gillawarna parents and students have engagement with the 'Community Kitchens' cooking workshops through 'Live, life well' which run a series of cooking classes to teach students and parents how to prepare healthy, economical meals and then enjoy them together at the end.
 "The facilities that we now have thanks to the funding are giving students access to new skills in an environment that is specialised and comfortable for their learning, which was not previously available.
For more information about Broderick Gillawarna hospitality kitchen contact Broderick Gillawarna School.