THE YEAR IN REVIEW 
With the closing of the 2021/2022 Financial Year this provides opportunity to reflect on the past 12 months, on the key achievements, special events, community contributions, new member services, future developments and fond farewells. 
JULY, AUGUST AND SEPTEMBER 2021 
COVID 19; on 26 June 2021, NSW was hit with another lockdown as the delta strain of COVID-19 cases rose rapidly. The state lockdown was extended to 11 October 2021 meaning the Club remained closed for more than 3 months. All scheduled events, shows and activities were either cancelled or postponed. 
Once we were able to open our doors again, mandatory restrictions were in place, respectfully, to protect our staff and members. It was in late February 2022 that the club started to feel normal again with QR Code Check ins, mask and capacity limit restrictions easing. 
ClubGRANTS Scheme; has seen more than $1 billion given by clubs to community groups, charities and sporting teams across NSW. This year Revesby Workers' provided funding to 10 community groups for various projects totalling over $300,000. Below are the recipients. 
Bankstown Koori Elders Group Inc 
Broderick Gillawarna School 
Bankstown City Aged Care 
Caroline Chisholm Special School 
Padstow Community Care 
Coolaburoo Neighbourhood Centre Inc 
Whitlam Institute 
Women's Community Shelter 
Revesby Uniting Church 
George Bass School P&C 
OCTOBER 2021 
Member Anniversary Celebrations; very special presentation events held on Thursday 28 October to acknowledge over 750 loyal members of the Club who were celebrating their 25th, 40th and 50th year Membership Anniversaries. 
While COVID restrictions were still in place and did create some challenges, these member anniversary events were a huge success and it was important to the Board and  Management that these events go ahead albeit adhering to NSW health restrictions. 
Alan (Dick) Moroney; Revesby Workers' Club Life Member and former Club Director Alan (Dick) Moroney passed away on Saturday 9 October 2021 at the age of 93. He joined Revesby Workers' Club in 1967 and was a director from 21 September 1997 until 24 September 2006, whereby he was the Liaison Director for Mixed Indoor Bowls, Darts and Garden Club. He was then appointed the Clubs alternate delegate in 1997 to the Federation of Community, Sports and Workers Clubs, shortly after commencing his directorship. Alan (Dick) Moroney was a dedicated member of Club's Charity Fundraising Committee. He was awarded Life Membership for his considerable and ongoing contributions to the Club and named a Life Member of the Labor Party. 
NOVEMBER 2021 
Local Schools Funding; a scheme introduced by past President Bill Bullard and since its inception has seen Revesby Workers' donate in excess of $1.9 million dollars to local schools. Now in its 22nd year, the Club generously donated $84,000 to twenty-eight schools in the local community. 
Unfortunately, this year's event was unable to proceed in its regular presentation format. This did not however distract from the exciting programs each school had put together as a way of using this funding to enhance the learning of our young scholars. Each School made a submission as to the proposed allocation of the funds of which included playground upgrades, extra support staff and learning devices to name a few. 
Our Community Gives at Christmas; for many years the Clubs' foyer played home to a very special Christmas tree, the 'Workers' Giving Tree' and our Health Mates Fitness Centre hosted its annual Food Drive. Supporting the local Community Care Christmas Appeal, members, guests, staff and wider local community were invited to generously donate a gift or food item and help make someone's Christmas just a little bit more special. 
The Community Care Christmas Appeal distributed over 400 Gifts and Food Hampers to households in the community who will be doing it tough over the festive season. They also host a Christmas Day Lunch, catering for over 200 people who normally would spend this important day alone. Community Care supports families and individuals across the Bankstown LGA but more specifically in Padstow, Panania, Revesby, Picnic Point, Milperra and East Hills.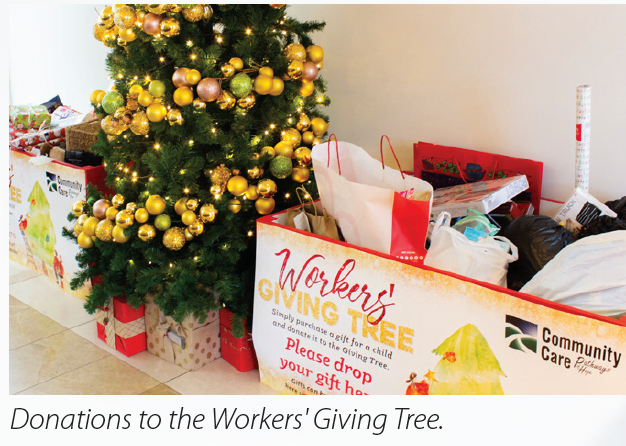 Biyani House; another anticipated event leading into the New Year was the opening of Biyani House – Revesby Women's Shelter. Director Kylie Wilkinson and Executive Manager, People and Culture Sharyn Buhagiar, alongside the Biyani Board worked tirelessly in getting the shelter prepared for opening. 
Work had been ongoing at Biyani House for the better part of six months which included considerable renovations, furnishing the house, external works such as the gardening, recruitment, and a call out for donations. 
The Club is extremely proud to partner with Women's Community Shelters to offer our community a shelter within the Canterbury Bankstown council. Having the shelter within the community offers women and children in need a place of solace and hopefully a new beginning. 
DECEMBER 2021 
Photos with Santa; the always popular annual event that sees the Brett Street Foyer transformed into the North Pole didn't disappoint. The Club saw families visiting from all over Sydney to capture those special festive memories in a set that featured a full-size sleigh with reindeer. 
The Clubs priority is to always provide a safe and accessible environment, delivering a relaxed and friendly experience, and with more 2,500 families booking in last year this was confidently achieved. 
Christmas Supporting Parish of St Luke's;
On Christmas day, Revesby workers joined forces with St Luke the Evangelist Catholic Church to support students, families, staff and Parish Priests with a Christmas Lunch and donations of decorations, food, toys, gifts, club vouchers and more. 
Rogues Sports Bar;
Was officially opened on Tuesday 14 December at a private function that included a number of VIP's, Directors, staff and members of the Darts and Snooker Clubs, for whom both the snooker tables and dart boards were retained in the upgraded facilities. 
The history of the original Sports Bar was shared with the attendees, some of whom are relatives of our very own "Rogues" featured in the illustrated gallery. 
Featuring state-of-the-art audio visual with two LED 158-inch wall screens on either side of the entrance and over twenty-five 55-inch screens throughout, there isn't a second of live action to be missed. 
The American flair menu is loaded with sports viewing favourites and the drink selection is a showcase of local and international beers, across the bars 16 taps, range of wines, cocktails and zero alcohol products all available to be ordered either at the bar or via QR code at your table. 
Health Mates Fitness turned 25;
On December 2021. Opening in 1996, Health Mates has been committed to enhancing the quality of life of our community by improving self-esteem, confidence and wellbeing in a friendly, inviting and inclusive environment. 
The centre has evolved throughout the years, with  more and updated equipment and machines as well as new members wanting to kick start their fitness journey. 
JANUARY 2022 
Kids Minifit Clinic; a club supported program, held for the fourth year on 20 January, in the Clubs Whitlam Theatre. The program is designed to encourage health, fitness and wellbeing amongst kids in the local community. Developed and hosted by Rugby League Legend, Anthony Minichiello, whose passion is to educate children on how being active can offer so many benefits and set them up for healthy habits for the rest of their lives. 
FEBRUARY 2022 
Tertiary Scholarships Program; accepts applications during the months of December and January annually. Since its inception in 1997, the Club has assisted over 500 local Year 12 Graduate and University Students, as part of its ongoing commitment to the community and education. 
In 2021, the program was reviewed to now include 8 x $3,000 scholarships as well as the $500 scholarships offered in previous years. The Scholarship Committee reviewed applications in February and was thrilled to see so many new and returning students applying. This year, 25 previous applicants received their ongoing $500 scholarship amount, totalling $12,500. Many of these recipients received distinctions and high distinctions for their respective studies. There were also 17 new applications of which an astounding 13 achieved an ATAR over 90. The Club generously provided a total of $21,500 to new successful applicants which took the grand total of scholarships paid in 2022 to $34k. 
MARCH 2022 
International Women's Day;
Celebrated on Tuesday 8 March for the second year. This networking luncheon, partnered with Leagues Club Australia, supported Biyani House – Revesby Women's Shelter, who provide short term emergency accommodation and support in a safe environment. 
Hosted once again by LayDee KinMee, Australia's most in demand drag queens and well known for her incredible vocals and unique yodelling talents, the event welcomed several key speakers including Singer-Songwriter, Casey Donovan and Champion Skier, Pilot and Author, Janine Shepherd and Athlete, NRL Ambassador and Firefighter, Ruan Sims OAM. 
The theme was #BreakTheBias and the event had several Fundraising Activities, a Raffle, Silent Auction, Balloon Pop and Guessing Competition. Through the support of our event partner Leagues Club Australia, Revesby Workers' Club Board, Sponsors and Attendees of this year's event, we collectively raised almost $13,000 for Biyani House – Revesby Women's Shelter. 
APRIL 2022 
Element Restaurant opens; a newly created dining experience, opened over the Easter weekend. Located next to Aunty Eight's Vietnamese, the restaurant concept is designed to connect people through shared menus. The menus are designed by using elements from a variety of cuisines around the world while embracing our own Australian environment. Element offers the right mix of superb food, acoustic sounds and exquisite cocktails. 
Anzac Day; one of the most important events in the Australian calendar. It is a solemn day of remembrance of those Australian and New Zealand Army Corps soldiers who fought and died at Gallipoli in 1915. 
This year's Anzac Day Service saw some 300 members, sub clubs and local community march from Bankstown YMCA down Macarthur Avenue to Revesby Workers' Club, followed by a Service at the Cenotaph. Attendees were invited to Rogues Sports Bar for a post service refreshment, before joining in on a traditional game of Two Up. 
MAY 2022 
Asbestos Diseases Research Institute; the Clubs CEO Scott Bennetts, attended a Reception at Government House for the Asbestos Diseases Research Institute. 
The event, hosted by Her Excellency the Honourable Margaret Beazley AC QC, was attended by individuals and businesses who donate funding and contribute to the incredible work that the Institute undertakes, working towards finding a cure for the asbestos disease. 
Revesby Workers' Club Ltd generously donated $45k and plan to continue this support to the institute in the future. The Club's support of the Institute was widely recognised throughout the event, and are honoured to be able to provide this much needed funding. 
JUNE 2022 
Membership Numbers; this financial year continued similar to last year whereby member numbers had flattened, predominantly due to the COVID-19 closure and restriction disruptions. 
The financial year commenced with the Club still closed until 11 October 2021, and although membership numbers have seen growth month on month, the total number of financial members as at 30 June 2022 was 66,847, which is down year on year.